The 2022 Subaru Love Promise Community Commitment Award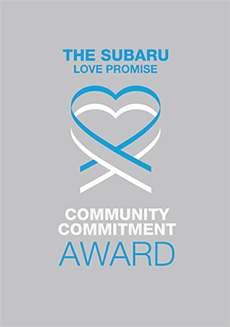 We've been nationally recognized for our dedication to our community and the Subaru Love Promise.
We're honored to receive the 2022 Subaru Love Promise Community Commitment Award. This award nationally recognizes Subaru retailers who are making the world a better place while demonstrating an outstanding commitment to supporting passions and causes in local communities. These efforts are focused in important areas such as the environment, community, health, education, and pets.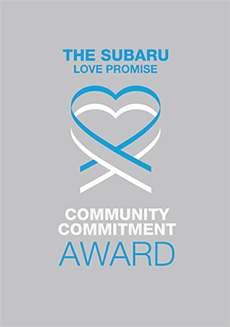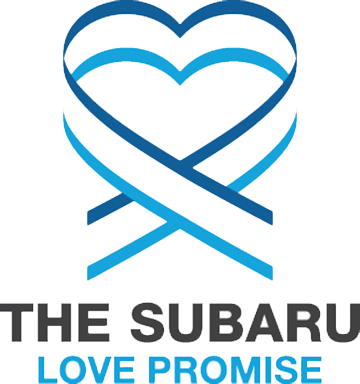 What is the Subaru Love Promise?
Subaru and our retailers believe in making the world a better place and the Subaru Love Promise is our vision of respecting all people. This is our commitment to show love and respect to our customers and to work to make a positive impact in the world.
How is Hello Subaru of Temecula dedicated locally to the Love Promise?
"Our promise to the Temecula Valley and surrounding areas is to maximize our resources, expertise and individual passions to make a real impact in the lives of others. Our people and our community are the cornerstone of our business. We live here, we work here and we are devoted to making the quality of life for everyone better as we as we rally around a common goal to make a difference. At Hello Subaru of Temecula 'The Subaru Love Promise' is not simply just a strategy, it is a core philosophy."
Animal Friends of the Valleys, Fallbrook Live Oak Dog Park
Temecula Recycling Center
Temecula Unified School Dist., Murrieta Unified School Dist., Elsinore Unified School Dist., Menifee Unified School Dist.
Assistance League of Temecula Valley, Community Mission of Hope, Alternatives of Domestic Violence
Loma Linda University Hospital, Inland Valley Medical Center, Rady Children's Hospital
Love Promise Stories from Hello Subaru of Temecula
Subaru and Hello Subaru of Temecula believe in making a positive impact on the communities in which we live and work. We uphold that belief through our Love Promise Community Commitment. Every month, we select inspiring stories from customers and partners from around our area who strive to support our collective commitment and feature them here
2022 Bark in the Park - Anne R
Hello Subaru of Temecula's sponsorship and support was a key factor in achieving our goal to provide annual maintenance for our off leash area at Live Oak Park, which is enjoyed by many citizens and dogs alike. Fallbrook is an unincorporated area so we do not have a city to support our dog park and it is up to our local citizens to be responsible for $25.08 per day (or over $9,000 per year) to the County of San Diego Rec. and Park Dept. for operation and maintenance costs annually to keep our off leash area open throughout the year. Hello Subaru of Temecula has assisted us in reaching our goal again this year! They bring so much to our event. This year Hello Subaru had two vehicles on display for the public to view as well as their Subaru camping trailer parked at the booth. Kevin Ohler, Director of Marketing, has always been a pleasure and very easy to work with on our events. We hope to work with Kevin in the future! It is because of Hello's generosity, participation, and enthusiasm that we are able to provide a quality event that continues to grow and help maintain our DOG PARK! Subaru certainly does Love Pets! We thank and appreciate you so much! Sincerely, Anne Richter, Bark in the Park 2022 Co-chair The Fallbrook Dog Park Committee has established a 501(c)3 non-profit with our tax ID #85-3938926.
---
Building a Playground - Garry Ann B
Dear Subaru Partners: Thank you for your generosity, commitment, and enthusiasm in supporting families and children battling domestic violence. You have stood with us to build a playground for our residential shelter, but your support and donations has accomplished so much more. Playgrounds provide an outlet and healing tool uniquely designed to confront the specific traumas of children exposed to violence. Play is proven to be therapeutic for children who are emotionally distressed from traumatic situations like child abuse, family disruptions and/or the experience of natural disaster or war. Studies show that when playing, children can release emotions and "play out" their traumas so they can share feelings freely. A playground, especially in our environment , offers countless benefits that improve quality of life for children now and for the rest of their lives. Your dealership's role in this healing process is a coveted privilege. On behalf of every client who may take refuge on our grounds, Alternatives to Domestic Violence thanks you. Your generosity has created a partnership in healing and support that will change our community for the better. Alternatives to Domestic Violence has a corporate mission to supporting these families, and supportive efforts like yours ensures that we can be as effective as possible. Your partnership in this effort is much appreciated.
---
Assistance League of Temecula "Share the "Love" - Electra D
Since 2007, Temecula Subaru and Assistance League of Temecula Valley have partnered with Subaru of Temecula and have made a tremendous impact on thousands of at-risk families in Southwest Riverside County. Our philanthropic programs benefit local children and families in the Temecula Valley and surrounding areas. During the past years, Temecula Subaru, with the help of loyal customers, have donated over $214,250. That is absolutely INCREDIBLE. We are so, so, so very excited and extremely appreciative of that support. We are a nonprofit service organization of volunteers committed to identifying and serving the needs of the Temecula, Murrieta, Menifee, Lake Elsinore, Wildomar and Romoland communities through five philanthropic programs developed and administered by its members. Operation School Bell, its main philanthropic program, identifies low-income school children (K-12) in the five school districts within their service area. Students have the opportunity to shop in the same retail environment as their peers and are allowed to choose their school appropriate clothing and shoes. To quote a young student who was leaving the department store with his bag full of new clothes and shoes, "This is the best day of my life!" This is a perfect example of how businesses and volunteers can work together to provide for those in need! Assistance League of Temecula Valley is very grateful to be among the recipients of this campaign. Electra Demos Assistance League Past President/Community Ambassador.
---
Sugar Finds a Home Animal Friends of the Valleys - Beth S
"This is Sugar, a 4-year-old American Bully female who stole the hearts of everyone here at the Animal Friends of the Valleys shelter in October 2021! Due to her breed, as well as her very strong physique and facial scars, we felt Sugar was definitely an "underdog" as she intimidated people at first glance. Bully breeds are often some of the most difficult to adopt out due to the stigma attached to their names. Sugar, on the other hand, defied all stereotypes. The opposite of a "bully," a sweetheart with a gentle loving soul, Sugar was always so happy to meet new people and animals alike. Finally, after spending weeks at our shelter, she was adopted out only days after we made a post on her! We are always so ecstatic to see our underdogs get the love and second chances they deserve." A special thank you to Hello Subaru of Temecula, the ASPCA and the Subaru Loves Pets Progam. It has been a pleasure working with you over the last several years. Beth SoltysiakDirector of DevelopmentAnimal Friends of the Valleys
---